Daniela Cohen
Daniela Cohen is passionate about facilitating meaningful connections amongst diverse individuals. Her passion stems from the experience of growing up in apartheid South Africa, and first-hand knowledge of the long lasting impacts this system of institutionalized racism had on all people's interracial relations.
Daniela emigrated from South Africa to Canada at age 16. Many years later, she returned to South Africa to volunteer with Amazwi, a non-profit organization empowering rural African women to share their stories. She mentored Amazwi's journalists-in-training through the editing process as they compiled stories for their newly created community newspaper. She documented her experiences of returning to her homeland through a monthly column, "Homeward Bound", published in the Canadian Immigrant online. She was also featured as a monthly contributor on the African Blog. A graduate of the SFU Writers Studio and the Vancouver Manuscript Intensive, Daniela is working on a memoir exploring her ongoing questions on the meaning of home. Daniela has also written for The Source, New Canadian Media and ZEKE magazine.
Daniela has a Bachelor of Education and a Masters in Conflict Analysis & Management with a focus on Political, Ethnic and Security Issues. Her professional experience includes coordinating and facilitating various youth programs in both Canada and South Africa to foster dialogue around identity and inclusion, and the development of critical thinking, leadership and conflict resolution skills. She is passionate about creating opportunities for youth to develop their unique potential in a supportive environment, and believes that the sharing of personal stories can create the empathy and understanding that transcends our divides.
Andreina Romero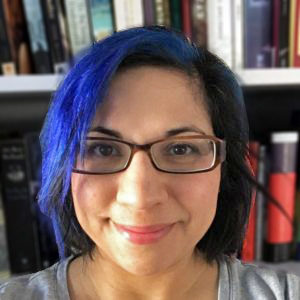 Andreina Romero was born in Maracaibo, Venezuela. At 19, she moved to Canada. Living in Quebec city when she first arrived, Andreina's first year and a half in Canada were in French.
Her next stop was Vancouver, where she added a new language, and a new culture, to her now increasingly complex sense of identity. Understanding where her Venezuelan roots end and her Canadian ones begin has been her quest ever since.
A book, period film, music lover, baker, gardener, and podcasting mom of one, Andreina not only brings her multiple identities and love of writing to Identity Pages but also a deep belief in the importance of nurturing one's call for self-expression.
Andreina is a bilingual contributor at The Source and has been writing about books, films, and music on her blog Things We Love since 2013. In 2019, Andreina also launched Girls Talk About Music, a podcast where women can talk in-depth about music and how music has shaped their lives.
Andreina has a Master in French Literature and Film Studies and previous to co-founding Identity Pages was a French Teacher at Simon Fraser University for five years and a Bilingual Research Analyst for eight years at a local Vancouver consulting firm.